Area Director of Operations, Zanesville, OH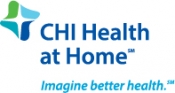 View the Website
CHI Health at Home
Director
Zanesville, OH
January 25, 2018
CHI Health at Home is seeking a Home Care Area Director of Operations. This position will oversee two home care branches, American Nursing Care (Zanesville, OH) and Southeastern Home Care (Barnesville, OH). You will have management responsibility for all operations of the office, including business development, recruiting initiatives and clinical care. Previous management experience in home care is required.
Your time at work should be fulfilling. Rewarding. Inspiring. That's what you'll find when you join CHI Health at Home. You'll find challenging, rewarding work every day alongside people who have as much compassion as you. Join us and together we'll create healthier, stronger communities. Imagine your career at CHI Health at Home!
What you'll need:
Bachelor's degree in health care management or nursing is preferred.
Minimum of five years in management in health related field.
Minimum of two years' experience in operations and finance; maintain and analyze financial data;
Experience preparing and managing operating budgets.
Experience in strategic planning and execution.
Strong leadership skills; ability to effectively manage, motivate and train staff.
Ability to make sound judgments and independent decisions.
Excellent communication skills
Demonstrated ability to be a team player, who cooperates with, supports and educates other team members.
If you are ready to lead our home care branches to the next level, please send your information to Jessica.Arnold@chihealthathome.com or reach out to a recruiter directly at 1.513.239.2163. You are who we're looking for and we want to talk to you.
CHI Health at Home is an Equal Opportunity Employer
See above
See above
See above