Clinic Medical Assistant, Ellensburg, WA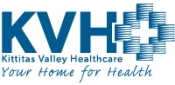 View the Website
Kittitas Valley Healthcare
Medical Assistant
Ellensburg, WA
February 13, 2018
Clinic Medical Assistant
603 S Chestnut St, Ellensburg, WA 98926, USAFull-time
Company Description
Who is KVH...
KVH is an integrated healthcare delivery system that includes 24-hour emergency care, inpatient, and outpatient hospital services through KVH Hospital. Clinics include family medicine, internal medicine, orthopedics, general surgery, women's health, and urgent care. Specialty services provide home health and hospice, physical, speech and occupational therapies and a geriatric nurse practitioner program.
Job Description
The Clinic Medical Assistant is responsible for procedures necessary to support the provider to whom they are assigned. We have openings at a couple different clinics.
Qualifications
What is required...
High School Diploma or equivalent
Appropriate Current WA state Certification (MA-C)
Current BLS card for Healthcare Provider (maintenance required)
Previous exposure to an Electronic Medical Records system
What is preferred...
Bilingual
Previous experience working as a Medical Assistant
Experience with an Electronic Medical Records system
Additional Information
Wage: Starting at $16.18/hour; depends on years of applicable experience
FTE: 1.0 = 40 hours/week and Per Diem
Schedule: Full-time is Monday-Friday 8:00 - 5:00p / Per Diem is variable shifts
See above
See above
See above