Clinic Medical Assistant (MA-C) - Workplace Health, Ellensburg, WA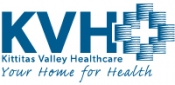 View the Website
Kittitas Valley Healthcare
Medical Assistant
Ellensburg, WA
February 13, 2018
Clinic Medical Assistant (MA-C) - Workplace Health
702 E Mountain View Ave, Ellensburg, WA 98926, USA Full-time
Company Description
Who is KVH...
Our Family Medicine Clinics are the primary entry point into the Kittitas Valley Healthcare system of services. With a critical access hospital named in the Top 50 nationwide, and a variety of specialty clinics and services, we know that you would be proud to call KVH your home for health. KVH is an integrated healthcare delivery system that includes 24-hour emergency care, inpatient, and outpatient hospital services through KVH Hospital. Clinics include family medicine, internal medicine, orthopedics, general surgery, women's health, workplace health and urgent care. Specialty services provide home health and hospice, physical, speech and occupational therapies and a geriatric nurse practitioner program.
What you can expect..
Work-life balance is important to us. We value your mental well-being as much as your skills to perform the job and therefore offer a competitive PTO plan, benefits package as well as a 7% employer contribution pension plan. When you're away from the office, we want you to be able to enjoy this beautiful setting. Commute to work by mountain bike. Hike in the wilderness on your day off. Backcountry ski from your door, or from lifts within an hour's drive.
Job Description
The Clinic Medical Assistant is responsible for procedures necessary to support the provider to whom they are assigned. This opening is for our Workplace Health Clinic; if you are looking to learn a unique specialty in the Medical Assistant world consider applying for this opportunity.
Qualifications
What is required...
High School Diploma or equivalent
Current MA-C license from the Washington State DOH
Current CPR card (maintenance required)
What is preferred...
Bilingual
Previous experience as a Medical Assistant
Experience with an Electronic Medical Record system
Additional Information
Wage Information: Hourly rate starts at $16.11; actual wage is based on years' of applicable experience
FTE: 1.0 = 40 hours/week
Schedule: Monday - Friday; either 8:00a - 5:00p or 10:00a - 7:00p with a one-hour lunch break
See above
See above
See above